Trans-Lombardy Challenge: Thomson Bike Tours and Bianchi launch new trip in Italy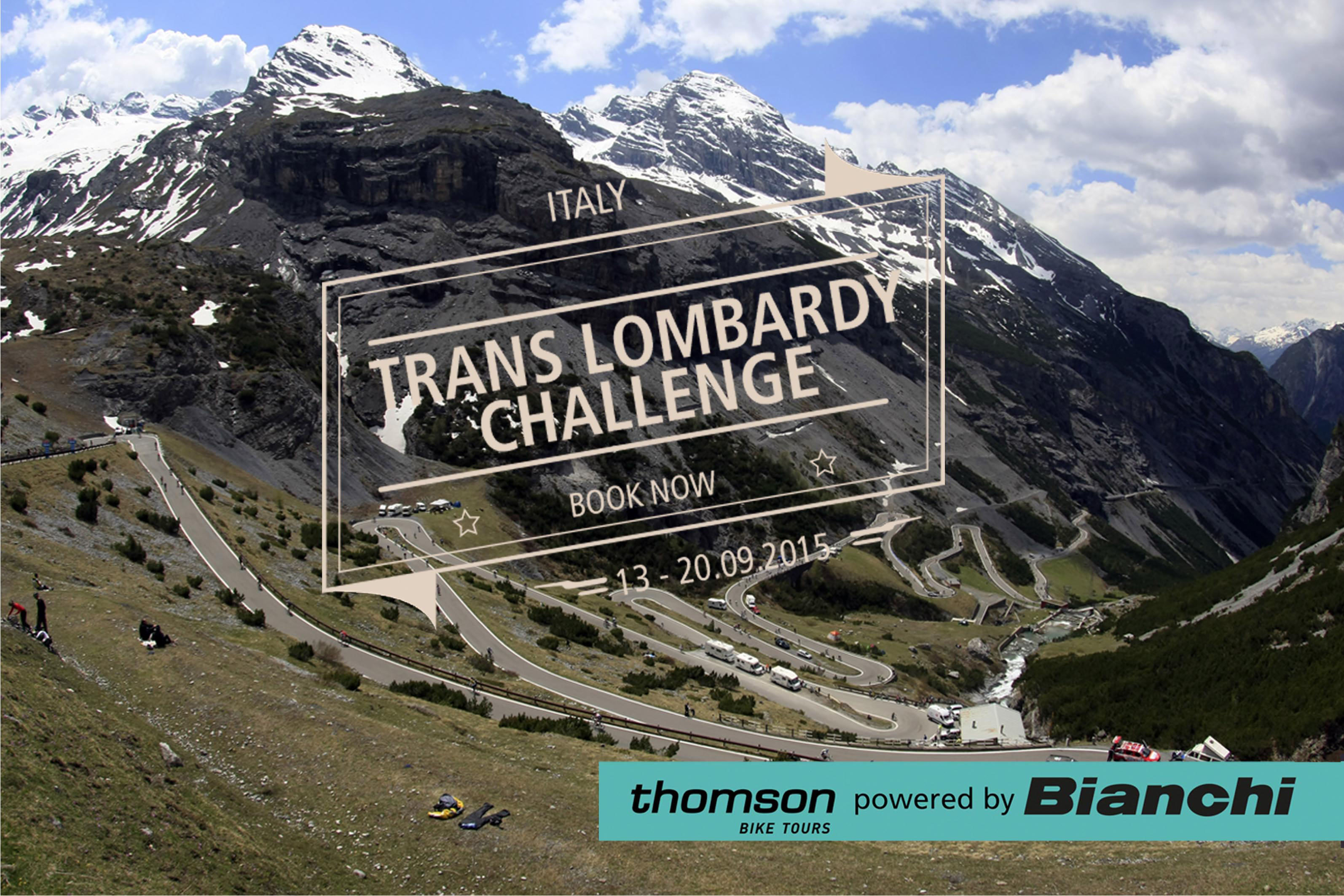 Bianchi and Thomson Bike Tours present a new exciting exclusive trip: Trans-Lombardy Challenge powered by Bianchi, a ride across this famed Italian cycling terrain, from the iconic Passo Stelvio to beautiful Bellagio on the lavish Lake Como, from September 13th to 20th.

ALL THE WAY UP TO STELVIO AND GAVIA PASSES
Trans-Lombardy Challenge powered by Bianchi's guests will tackle some of the Giro d'Italia and Giro di Lombardia's iconic routes on a top-of-the-line Bianchi bike: the highly acclaimed Infinito CV with Countervail vibration cancelling technology. While enjoying the breathtaking panoramas of some of the most legendary roads and climbs in international cycling, guests will discover Italy's rich culture and renowned food and wine.

The trip, scheduled on September 13-20, 2015, is an 8-day experience through the glorious cycling terrain that inspired the Bianchi brand. You will ride several World-famous climbs along the way: get ready to conquer both sides of the Passo Stelvio, the Passo Gavia and the infamous Passo Mortirolo. Also included in our itinerary are the 18km Passo San Marco and the 20km Passo Vivione, two of the most impressive climbs in Italy. The cycling dream travel will end up with a visit to the Madonna del Ghisallo cycling chapel/museum and a ride up the notorious Muro di Sormano. As Bianchi's special guests, you will have a VIP dinner at the all-new Bianchi Cafè & Cycles in downtown Milan and a private tour of the Bianchi Headquarters in Treviglio.

TRIP HIGHLIGHTS
Go inside Bianchi's world with an exclusive Bianchi Factory Tour and VIP dinner at the stylish new Bianchi Café in Milan

Ride BOTH SIDES of the Passo Stelvio and the Passo Gavia

Ride one of the most famous loops in Italy over the Passo Gavia and the Passo Mortirolo!

Ride the Passo Vivione - one of the most beautiful climbs in Italy!

Visit Italy's most famous cycling chapel and musuem - the Madonna del Ghisallo

Climb the infamous "WALL" - the Muro di Sormano

Stay in Bellagio on Lake Como

16,000 mt (52,000ft) of climbing in 7 days!

As usual, the top support in the cycling industry!
BOOKING
The new Thomson Bike Tours powered by Bianchi trip is now live and open for booking on the Thomson Bike Tours and Bianchi.com websites (
click here
).